We moved into this house over six years ago. It is in a great location and has worked out perfectly for us over the years as far as what we needed at different times, but it has a very unique floor plan and is a bit of a hodgepodge of design styles and unconventional construction. Last fall, our landlord had a new kitchen floor put in and it sparked my desire to redesign, remodel, and recreate the spaces that we have.
Choosing which space to tackle first was biased by the fact that there was one box of flooring leftover from the kitchen and it would be exactly enough (edit: almost exactly enough, it turned out… see my post about installing the flooring!) to cover the floor in our pantry. I also use the pantry frequently, multiple times a day, and there were some major issues in there that frustrated me every time I went in. So armed with some paint and one box of flooring, I went to work!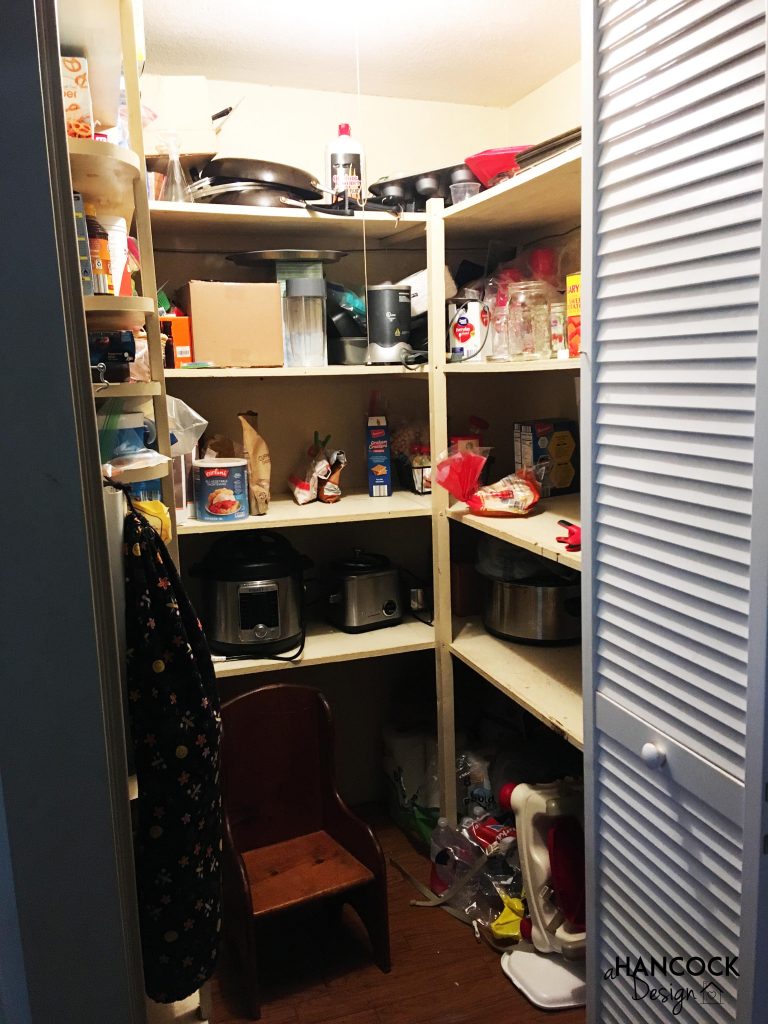 Ick. It's kind of embarrassing, but no, I didn't stage this before picture to intentionally make it look crowded, unorganized, sloppy, and awful. This is the old pantry. I'm sure it looked great at one point, but by the time we moved into the house, its feature list included old, greasy, sticky shelf paper on all the shelves, a sloppy paint job in places, a floor that was peeling up on the edges, no baseboards or trim, and a bare light bulb hanging from the ceiling that was missing its pull-chain and had to be turned on and off by unscrewing the light bulb or screwing it back in.
I don't have a picture of the process, but I started with a good cleaning, organizing, and getting rid of the things I don't use/want/need anymore. The top shelves in the pantry are too high for me to see what's up there (toward the back) without standing on a chair, so there was a lot that just got shoved up and forgotten. I condensed some food packages, tossed some expired foods, gave away some foods we didn't like or want anymore, and donated quite a lot of kitchen accessories that I don't use anymore or never used in the first place. I'm a minimalist at heart and love simplicity and organization so this part felt really good!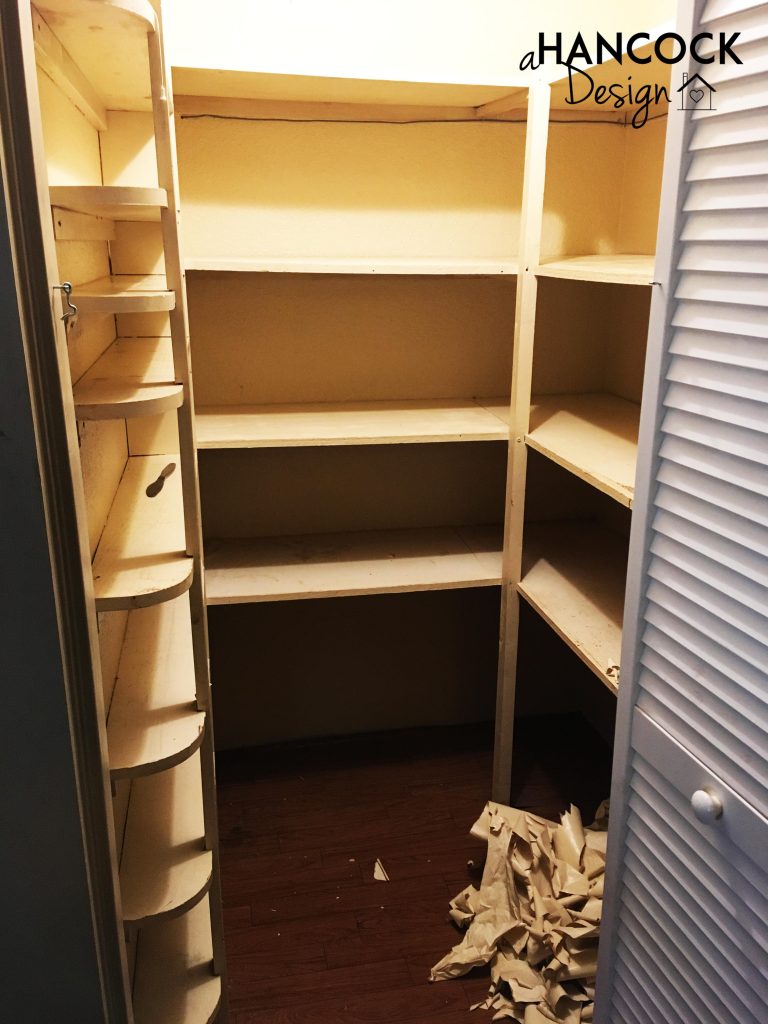 After everything was out of the pantry (and crowded into my laundry closet… I should have taken a picture of that! Everything was stacked in bins and loaded up on top of the washer and dryer) the next step was to remove the shelf paper. (For a lack of better tools at that point in the project, I used a butter knife as a scraper to get the stubborn pieces off, as evidenced in this photo.)
Ahh, that felt really good. Next I was on to the painting! The fun part. For the shelves, I bought a gallon of white Behr premium paint + primer semi-gloss and also picked up a new paint brush. For the past six years I've been borrowing my dad's favorite paint brush whenever I've got something to paint, but I thought it was high time I had my own. Following a recommendation from Ashley's post at Domestic Imperfection, I bought this paint brush. And I loved it! The flexible stubby handle is so comfortable and perfect for getting into nooks and crannies and very easy to hold and control, making straight lines without tape even easier. I also took Ashley's advice to put the paint brush in the fridge between uses and that was a huge time saver, as I was painting on and off for about 10 days (because kids) and didn't need to wash out the brush each time.
For the walls, I happened across some discounted Kilz paint at Walmart. The paint was in quarts and that size can was being discontinued, so I was able to get a quart for $5. I chose the color Village Blue and also picked up this 4-inch mini paint roller since I only had a regular sized roller and it would be easier to get between the shelves with the mini.
To be honest, I wasn't very impressed with the Kilz paint. I've used Kilz primer before with good results but have never tried their line of paint + primer. It may have been the paint or it may have been my walls, but even though I washed all the walls before I started, the paint still dripped off the walls. I wish I had taken a picture of it. It was literally running down the wall after I brushed and rolled it on. I had to do very very light coats, and even so it still ran. I ended up putting on about five or six coats total and needed to get another quart of the Kilz paint. I kind of lucked out there though, because when I went back to Walmart to get more paint, they had lowered the price to $3 a quart!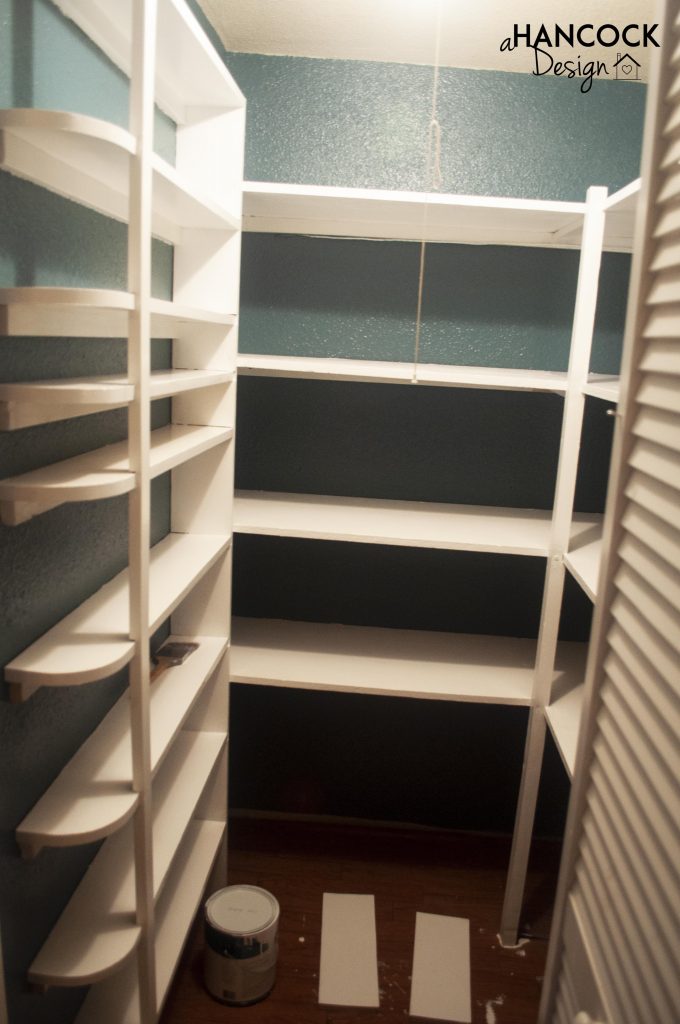 Finally, after about a week of painting during kids naps, I finished the shelves and the walls. Next it was on to the flooring and installing new trim! Stay tuned for a Stainmaster Luxury Vinyl Plank tutorial. (Here it is!)