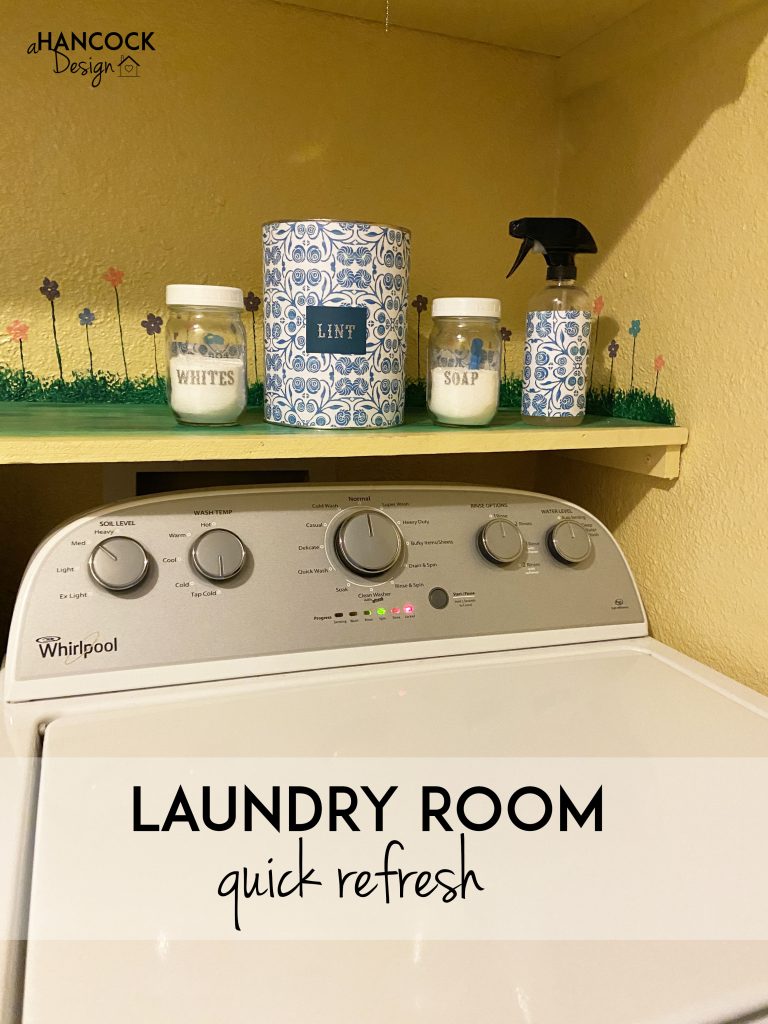 I've been using an empty powdered milk tin can as a dryer lint receptacle for years. Like… almost seven years. For all of those seven years, I've had the thought that it would be nice to cover that tin can somehow so it doesn't look like an old tin can. Seven years! So I finally sat down one day and covered it with some paper I had. It took me about 15 minutes to finish this quick refresh and make the laundry room (closet-room) so much more cheery every time I opened the doors!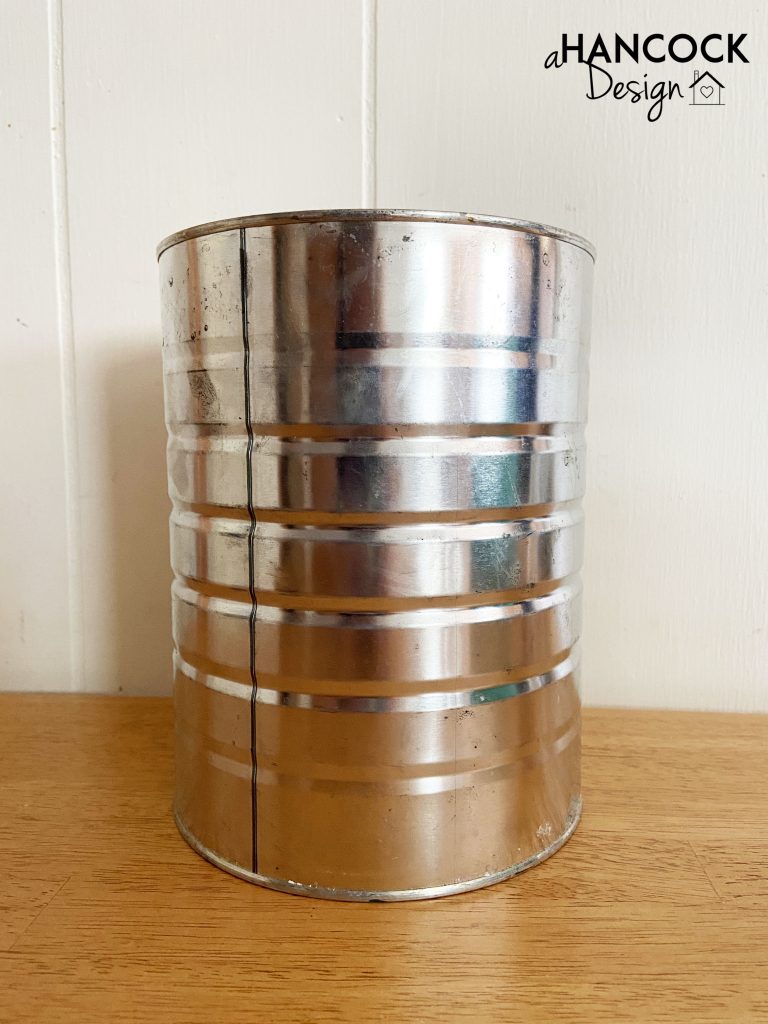 I put my laundry soap and my whites booster in glass jars. They were actually already in the jars prior to this makeover, but I used some of the leftover paper from covering the jar to put a "background" on the back of the jar. In hindsight, I probably wouldn't have bothered with that, because when the jar is full, you can't see the paper anyway.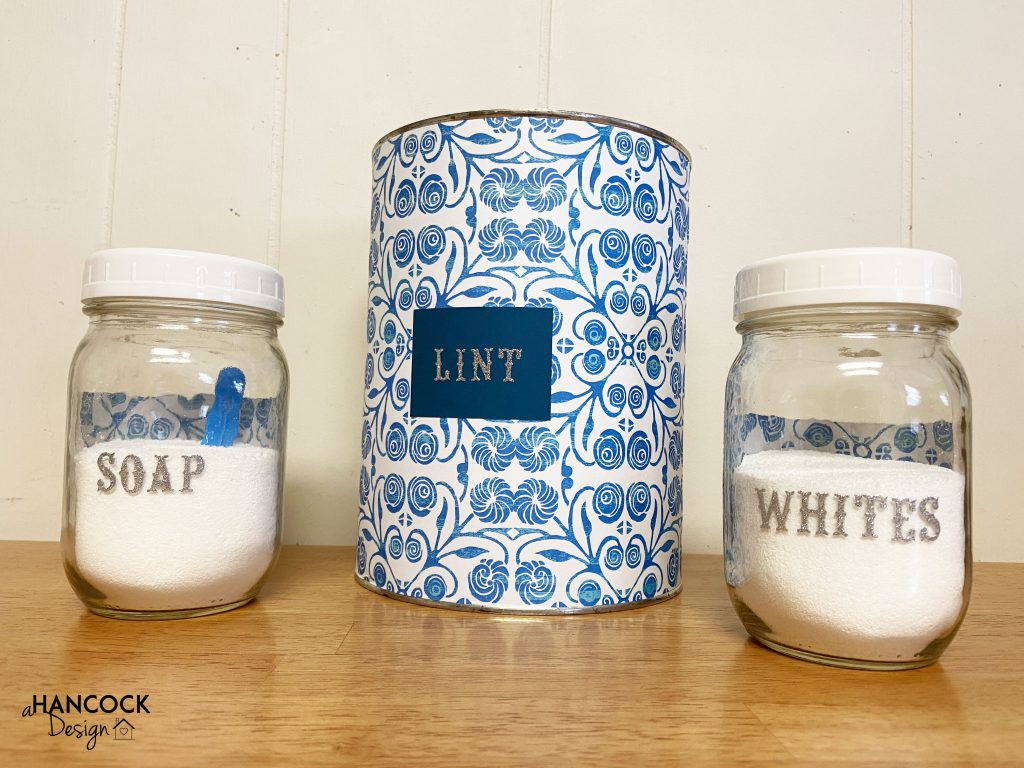 I had some alphabet stickers leftover from a past craft, so I used them to make pretty labels for the containers. Because I didn't have all the correct letters left, I repurposed a V into the A in soap, and cut another sticker up to make the horizontal line in the A. The sparkly letters and floral paper are not really my "style" but it was a nice refresh and a huge improvement over the dirty old tin can.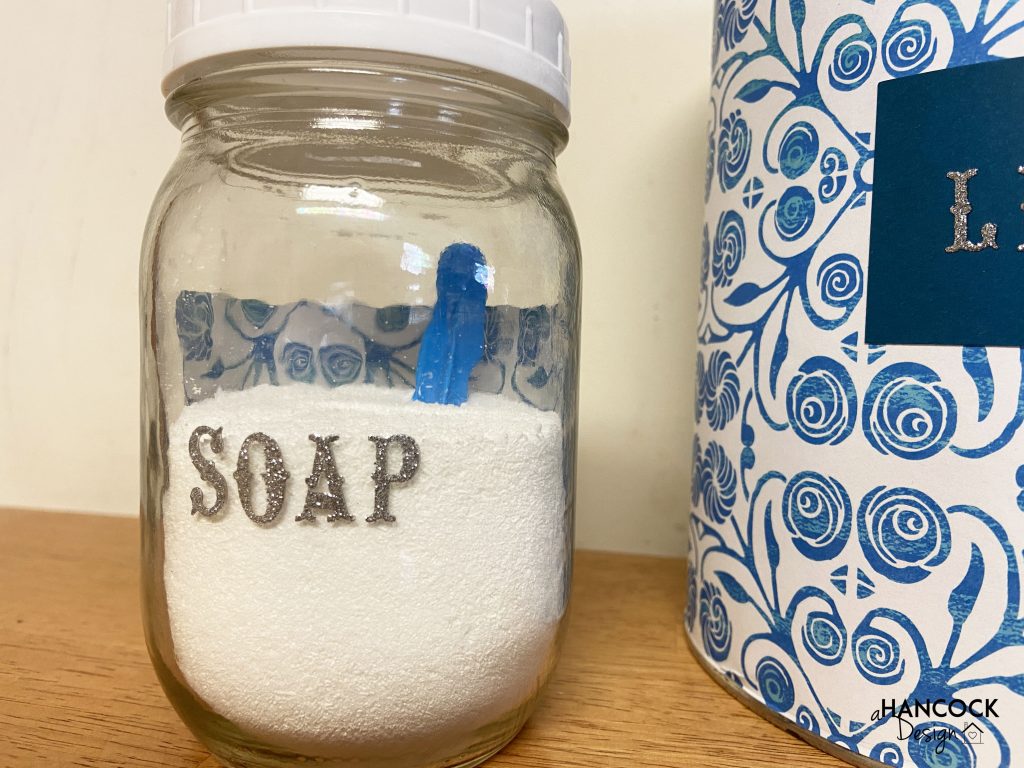 I slapped a paper label over my spray bottle of stain remover, too, but didn't have enough sticker letters left to give it a word. As a side note… this stain remover is AWESOME. It is this spray from Molly's Suds (and this is not a sponsored post, I just really love it) and it works amazingly! Most recently, I sprayed it on a grease stain on a shirt that had already been through the washer and the dryer twice with the stain. I would have thought that it was a lost cause and my shirt was just destined to have that grease stain. I sprayed it, let it sit until I ran the next load of laundry, and the grease spot came out! I was amazed. I've used the Molly's spray other times on a fresh stain and it always comes right out, but I was amazed that it came out even after having been "set" in the dryer… twice!
That's the end of the blog post anyway, so… here it is! A 15 minute makeover I waited 7 years to tackle.