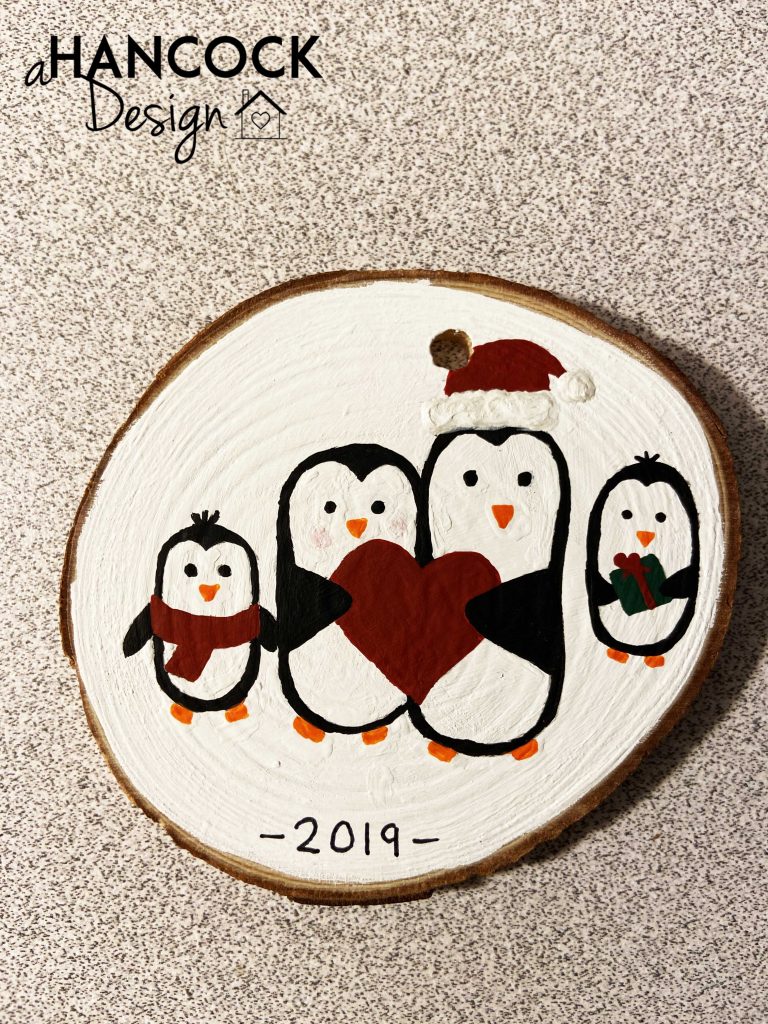 This year (I mean last year, a few weeks ago) I tried my hand at a Christmas craft I've been wanting to try for a few years…hand painting wood slice Christmas tree ornaments! Last year (2018) I tried to cut my own slices from a real branch I found dead in the woods, but the slices ended up cracking and splitting before I could do much with them.
This time I decided to go ahead and purchase some pre-cut, pre-dried, pre-drilled ornaments, which didn't end up being all that pricey. Most of the slices were really nice, too… there were a couple that had too much bark for my tastes but I painted them anyway and they turned out okay. The slices came in a very nice box (which I used for storage throughout the project) and also came with two different kinds of string to hang the ornaments, a natural hemp twine and a red-and-white striped cord. They ended up being less than $0.40/slice which is pretty reasonable.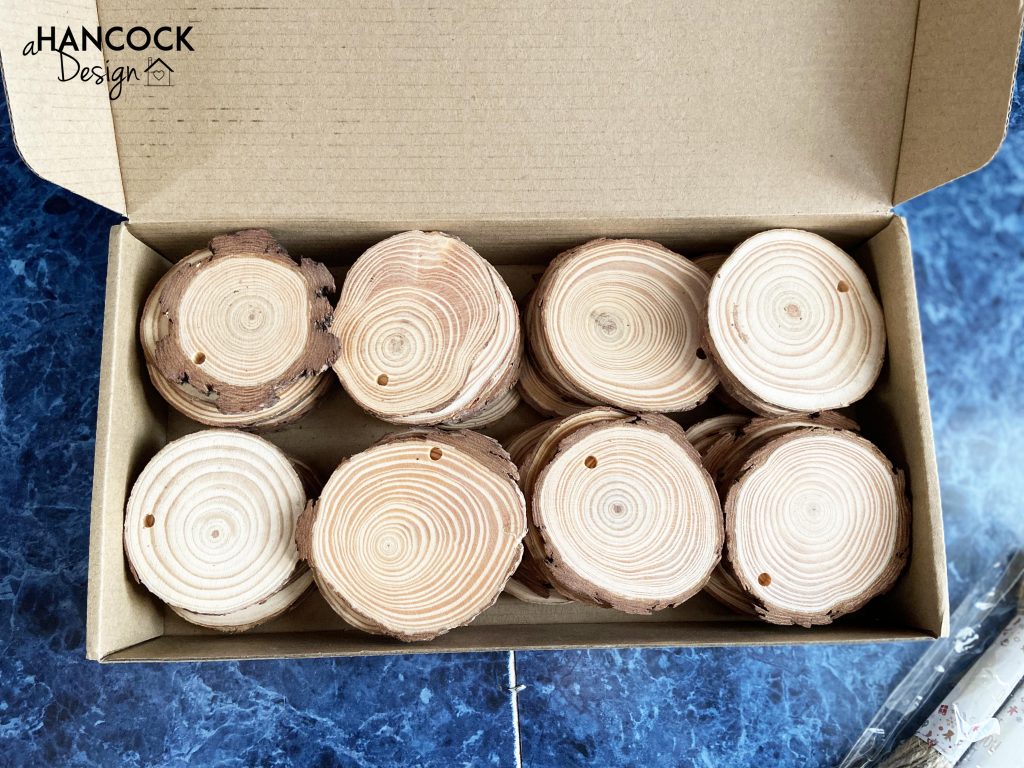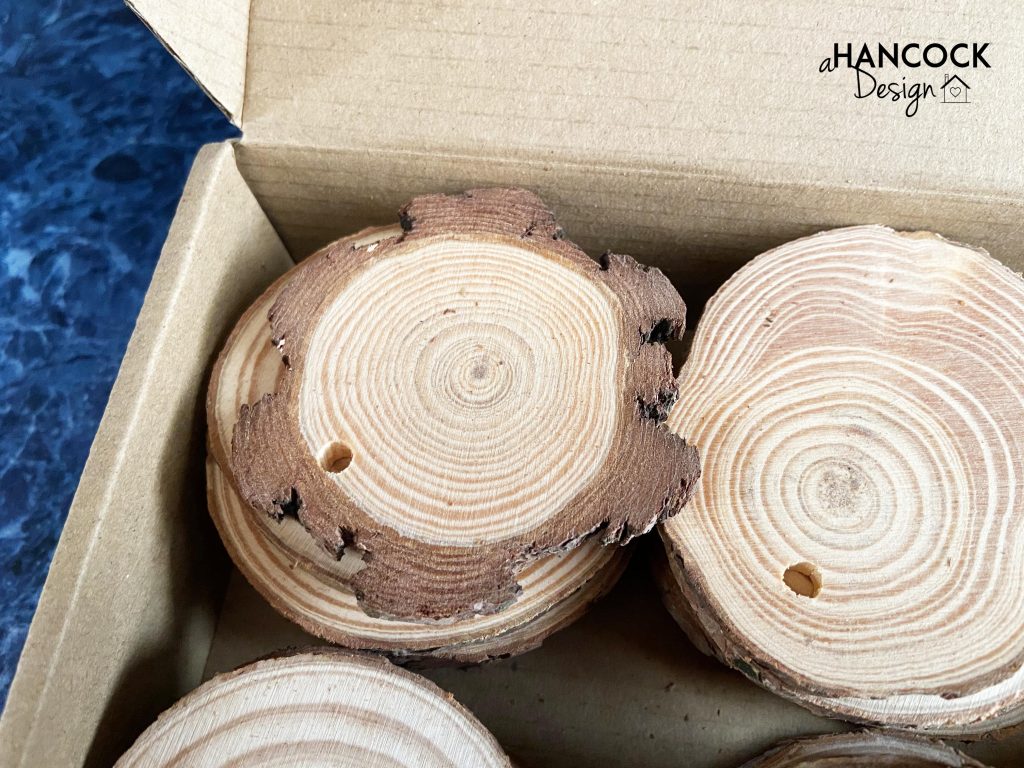 So I got to painting! It was rather relaxing and fun to do something crafty in the evenings after the kids went to sleep. I painted some while playing board games with my husband, some while playing computer games with my husband, some while watching Netflix or listening to an audio book. I have a collection of 20-30 varying colors of acrylic stencil paint, mostly Apple Barrel brand from Walmart. They're about $0.50-1.50 each depending on how fancy of a color and finish you want. Plain colors are cheaper, metallic and glittery ones are a little more.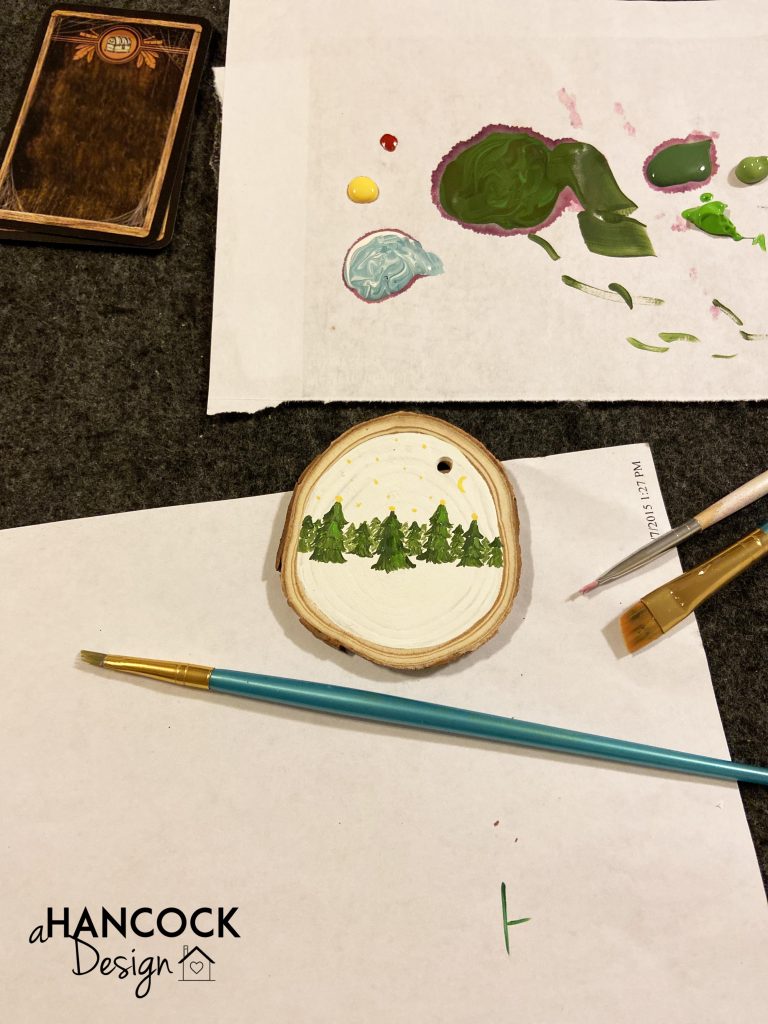 My first batch turned out pretty good. I mostly just copied ideas from one of my Pinterest boards I had been saving images to for a couple of weeks. Actually I think these ones (the image below) are 100% copied. My favorite is the two penguins snuggling side by side!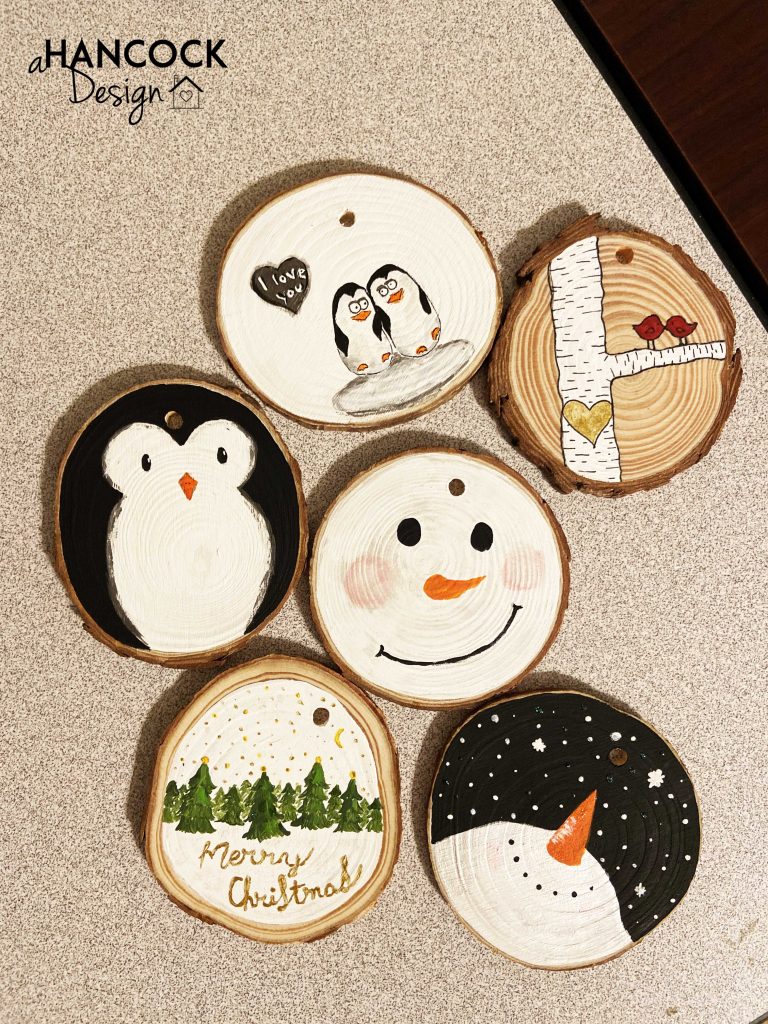 I also painted this snowman one as a gift for my mom.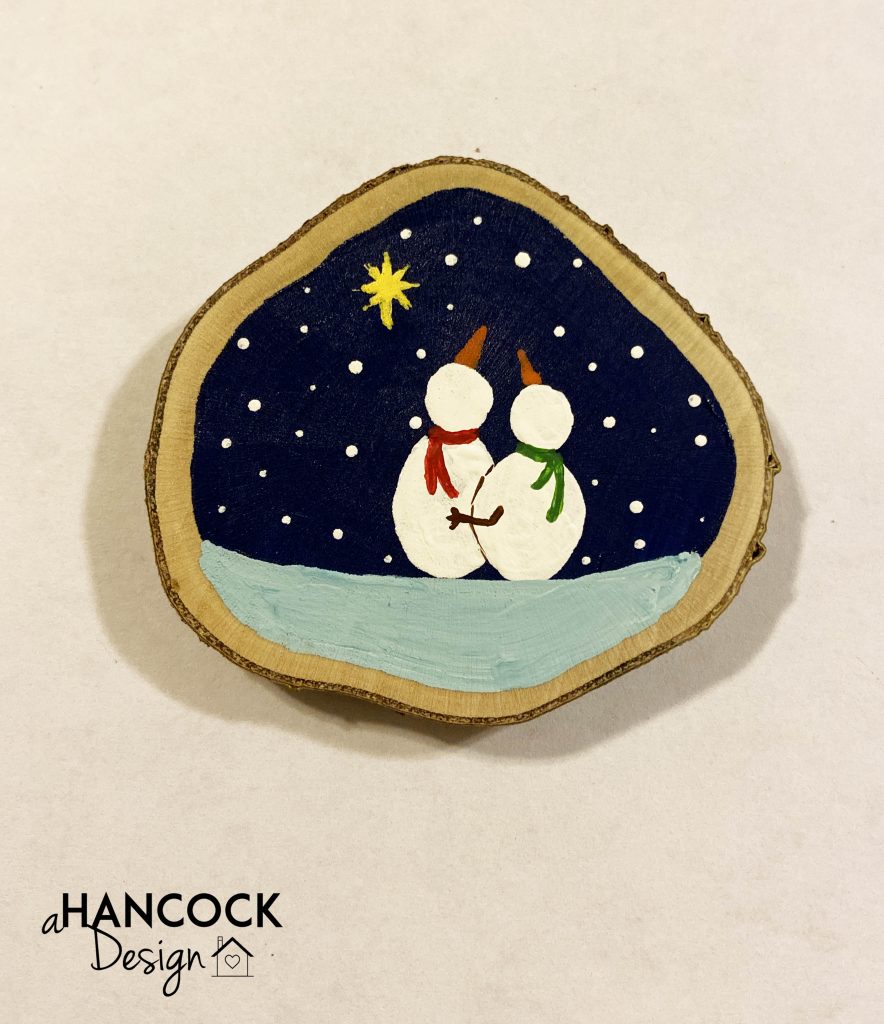 To try and recoup the costs of buying the wood slices and a couple new bottles of paint, I decided to try and selling some in the craft corner at my parents' restaurant. Some other artisans sell things there like handmade pottery, sewing projects, and other crafts. I brought in the baby Christmas tree I got at a thrift store and hung the ornaments on it. I decided on $5/ornament since my mail goal was just to sell enough to make back what I'd spent on the wood slices and a few new paints (shiny ones!). I ended up making back all my costs plus about $50 so that was neat.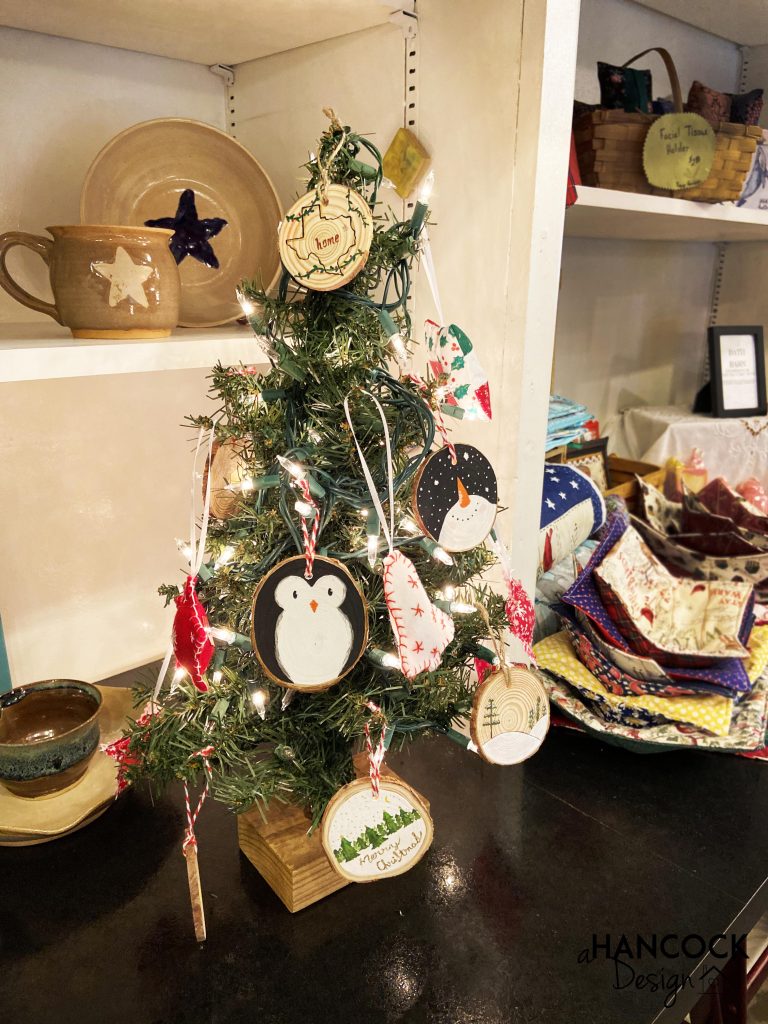 Round two of painting included my almost-sister-in-law who is a very talented artist. Some she did; some I did.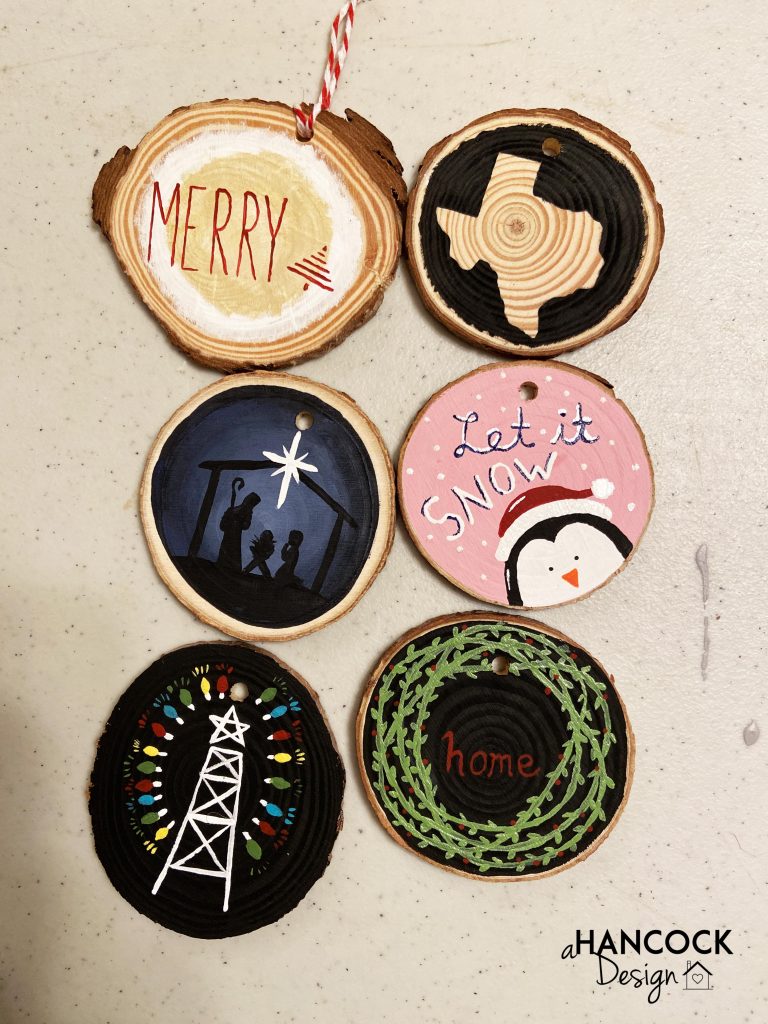 I painted one custom ornament for our family for 2019, featuring my favorite animal… penguins!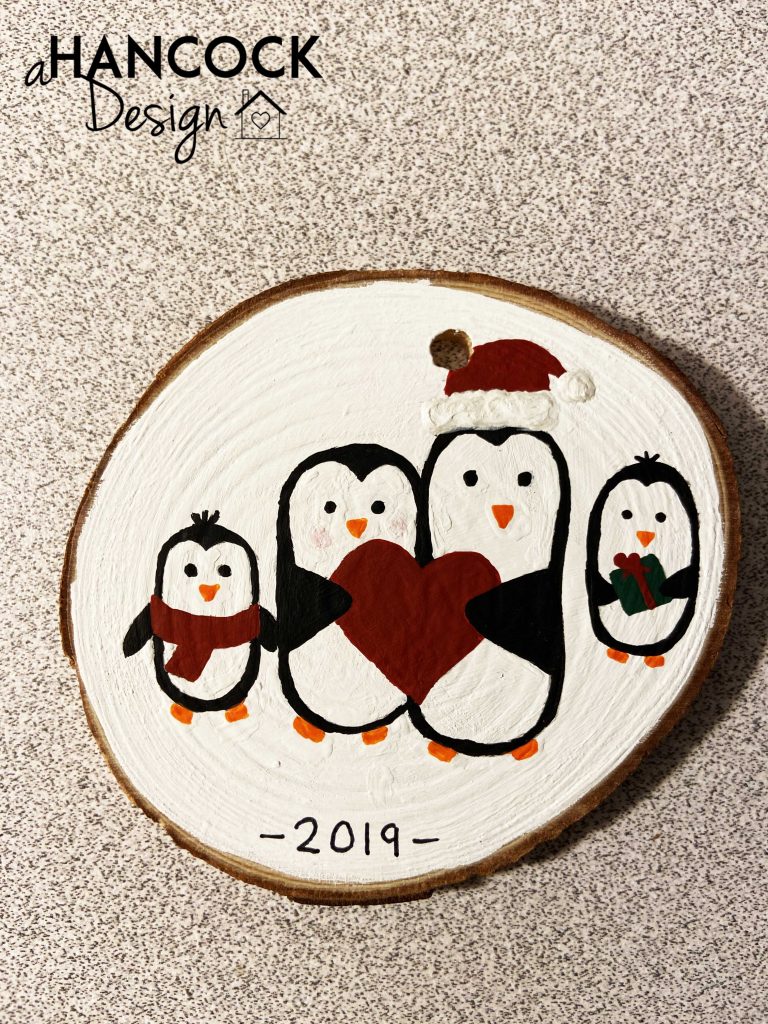 Quite a few ornaments at the shop sold, so I painted some more to replenish. One of the most popular by far was any design with the shape of the state of Texas… Texans sure are excited about displaying their state. This design was soooo easy so I took a couple pictures of the process.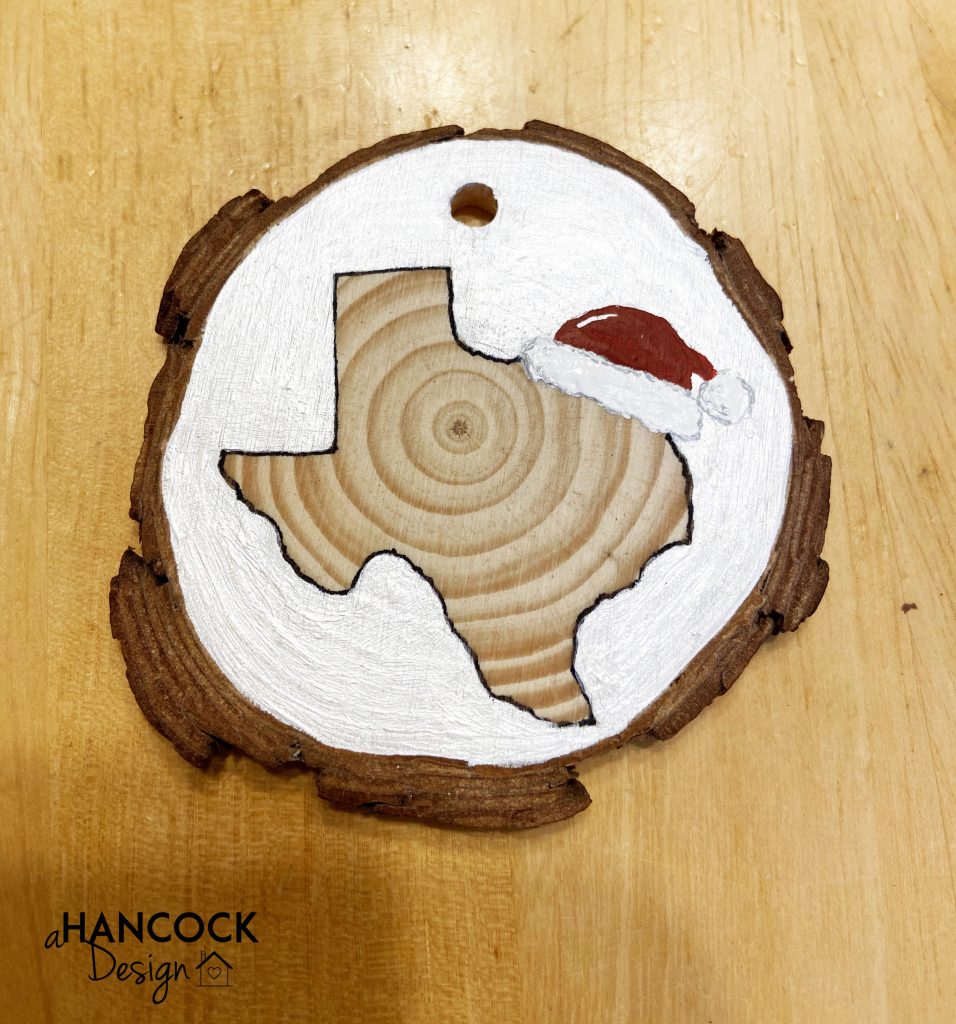 First I hunted Google images and printed out an outline of the state of Texas, in a few different sizes on the same sheet of paper so I could figure out which size looked the best on the size ornament blanks I had left. I cut it out on the lines just like kindergarten.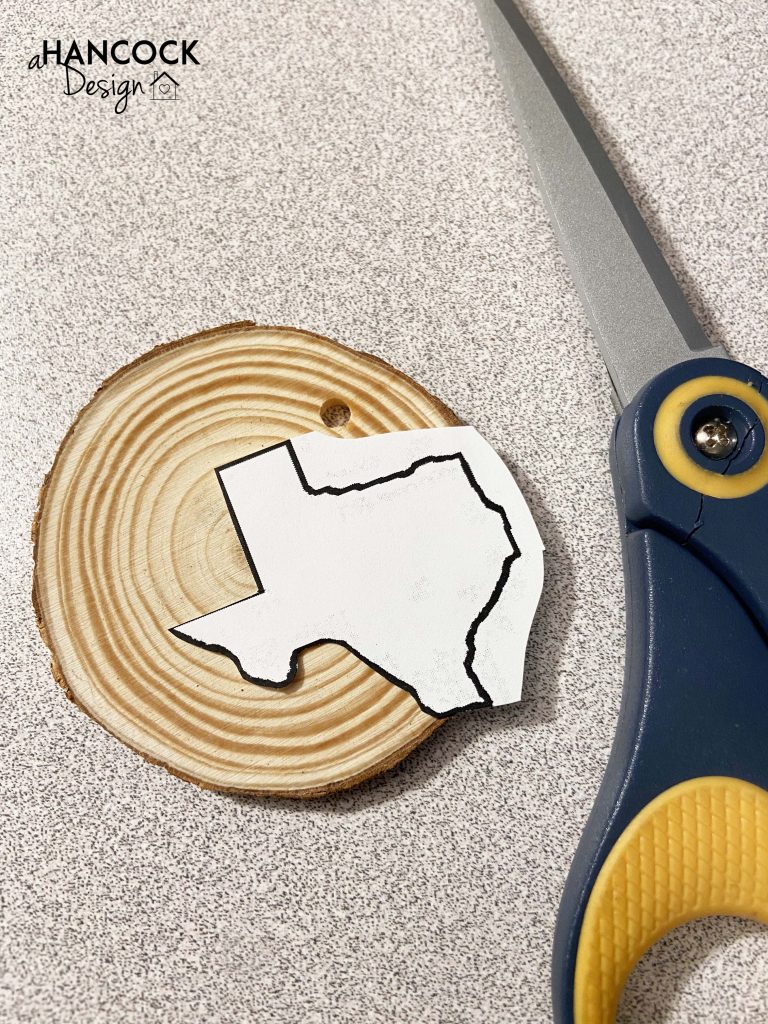 I painted a white patch on the wood slice big enough to fill the entire shape of the state. It took several coats, maybe three or four? to get a solid white color without the wood showing through the back so much.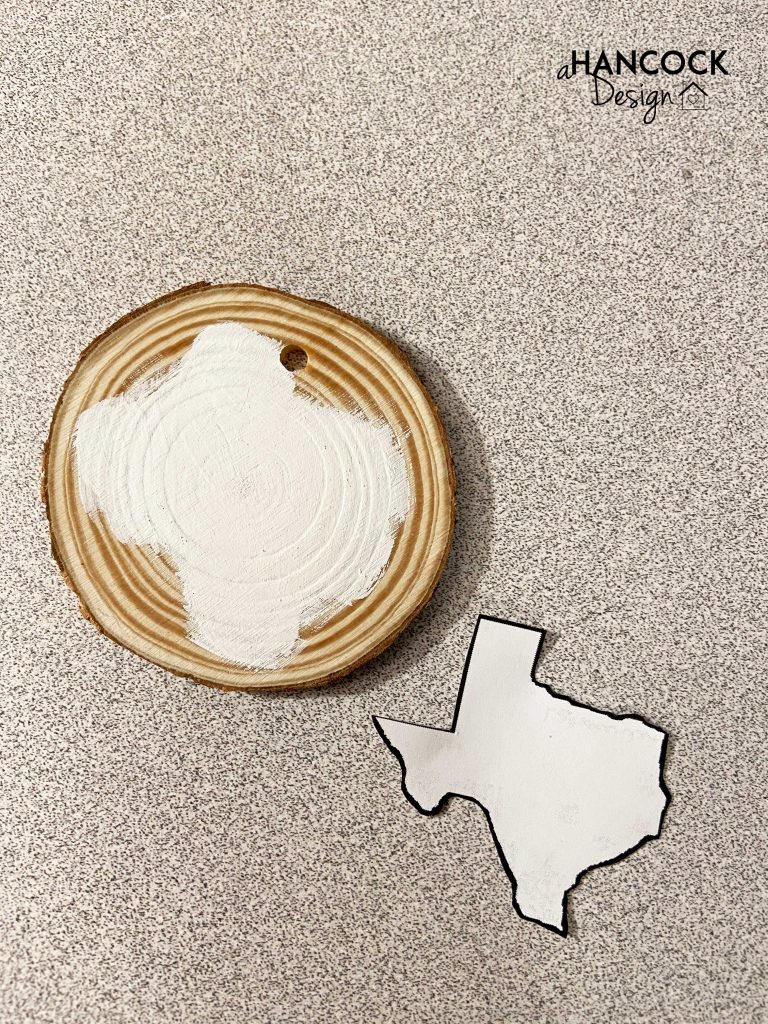 After that dried sufficiently, I just placed the paper template over the white, held it still with my fingers, and painted black all around the edges. I forgot to take a picture of this part but it's pretty easy. I cleaned up the edges by painting in a circle around the edge of the ornament and ta-da! As a finishing touch, I added a free-handed red heart in the general location of the shop (very general, as Texas is a big place).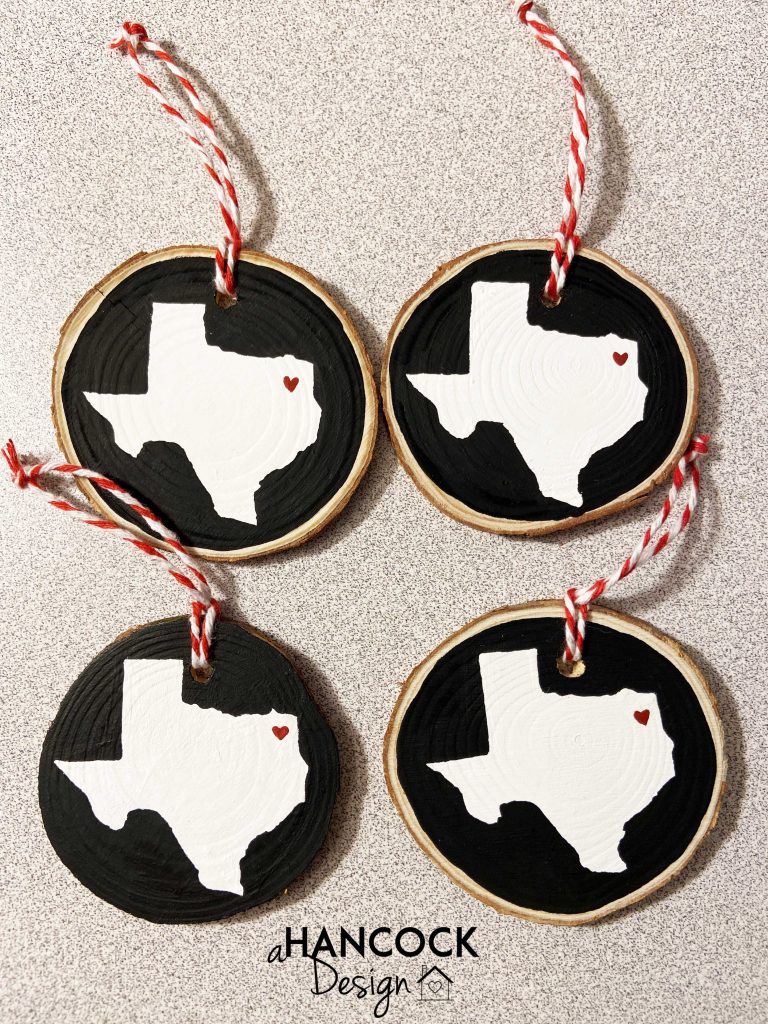 And there you have it! This project was very easy, relatively cheap, and very relaxing and enjoyable. The possibilities are endless if you use your imagination… or there's always Pinterest if you like to use other people's imaginations.