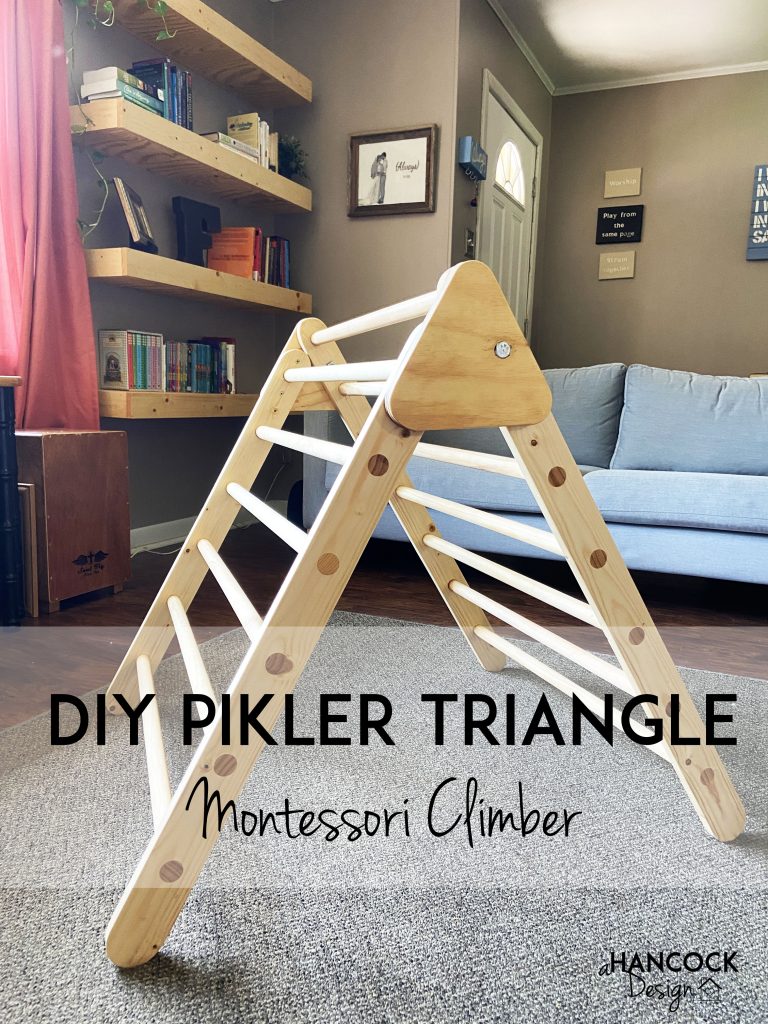 First off… what IS a Pikler triangle? And how in the world do you pronounce that word?!
The word is like "PICK-ler" and it is named after Dr. Emmi Pikler, a Hungarian pediatrician who created the triangle as a climbing structure to allow children to explore their body's boundaries and respond to the natural need to climb in a way that develops motor development, free movement, and uninterrupted play. The free climbing nature of the triangle play develops gross motor skills, as well as physical strength and agility.
A baby can begin to explore a Pikler triangle as young as six months or so, when they can use the rungs to pull up and stand. As babies grow older, they are able to ascend and descend the triangle, and by the age of four or five, children will be quite adept at climbing to the top and over to go down the other side. Pikler triangles often come with accessories, such as a slide or climbing ramp.
My sister had been wanting a Pikler triangle for quite some time, and asked me to help her build one for her son's first birthday. I spent a considerable amount of time scouring the internet for other DIY Pikler triangle plans, and settled on these from Montessori in Real Life as they were very thorough and detailed and the finished product is simple yet beautiful. Thanks! (The plans call for oak, but I made mine out of pine.)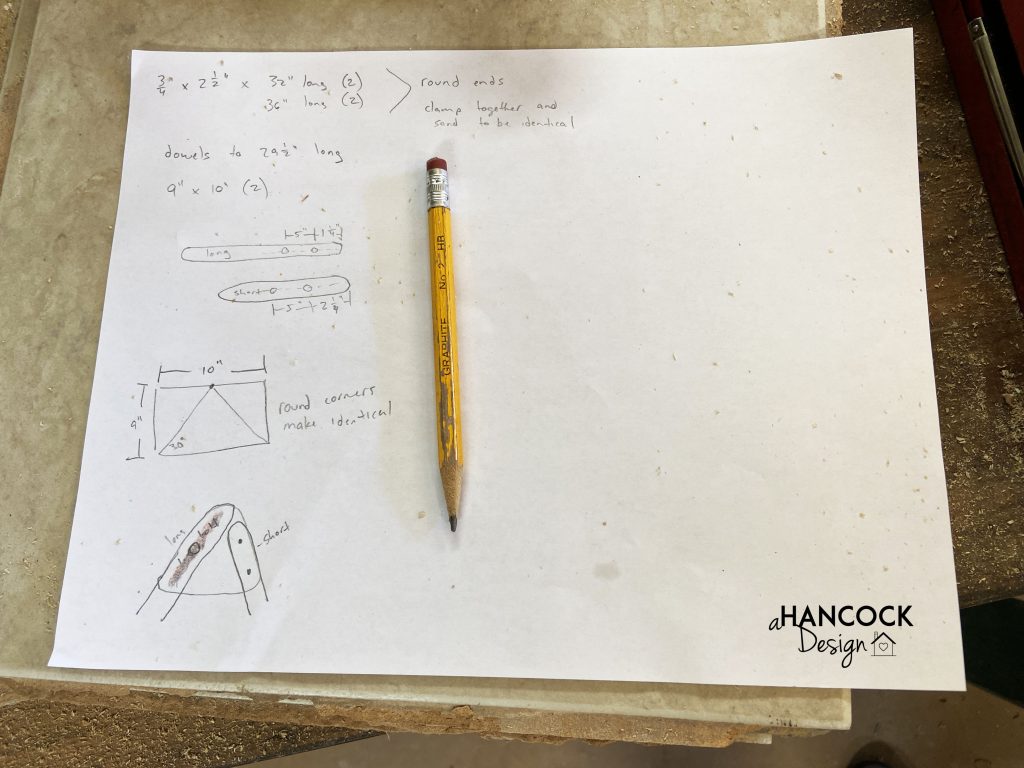 I could have downloaded the plans, printed them out, and brought them with me to the shop… but clearly that required too much forethought, so I ended up looking at the plans on my phone and then copying down the key parts onto this hand drawn scrawl that makes perfect sense… to me.
Okay, so, step 1. Cut all the wood.
First I cut the dowels to the appropriate length. I used 3/4″ dowels. After the triangle was built, and kids started climbing on it, I thought perhaps thicker dowels would have been better as the 3/4″ ones flex a fair bit under the weight of a 3-4 year old. But it's been almost a year and the triangle has seen much use from bigger kids and is showing no signs of wear.
Second, I cut my 1x's to the right length. The plans call for 1×3 but I could only find 1x4s at Home Depot that day, so that's what we used. After they were right right length, I used something round that was the right size to trace around to make the ends circular. I cut these with a jigsaw and then rounded them to perfection (*ish) on a belt sander.
Third, I drilled the holes in the 1x4s. I used a drill press and this set of Forstner bits (which I have wanted for a very long time and finally purchased because I needed them for this project!) Immediately upon finishing drilling the last hole, I realized that the plan calls for holes that only go partway through the wood, but I had just drilled every single hole all the way through. Definitely an "oh well" and move on kind of moment.
Lastly, I cut the two triangles. These are the "hinge" that the triangle folds on to open and close. I cut these out of 3/4″ plywood because that's what I had. The scrap of plywood I had happened to be already small enough to cut on a miter saw, so I cut the angles with that and then rounded the corners with the jigsaw again and smoothed them out on the belt sander.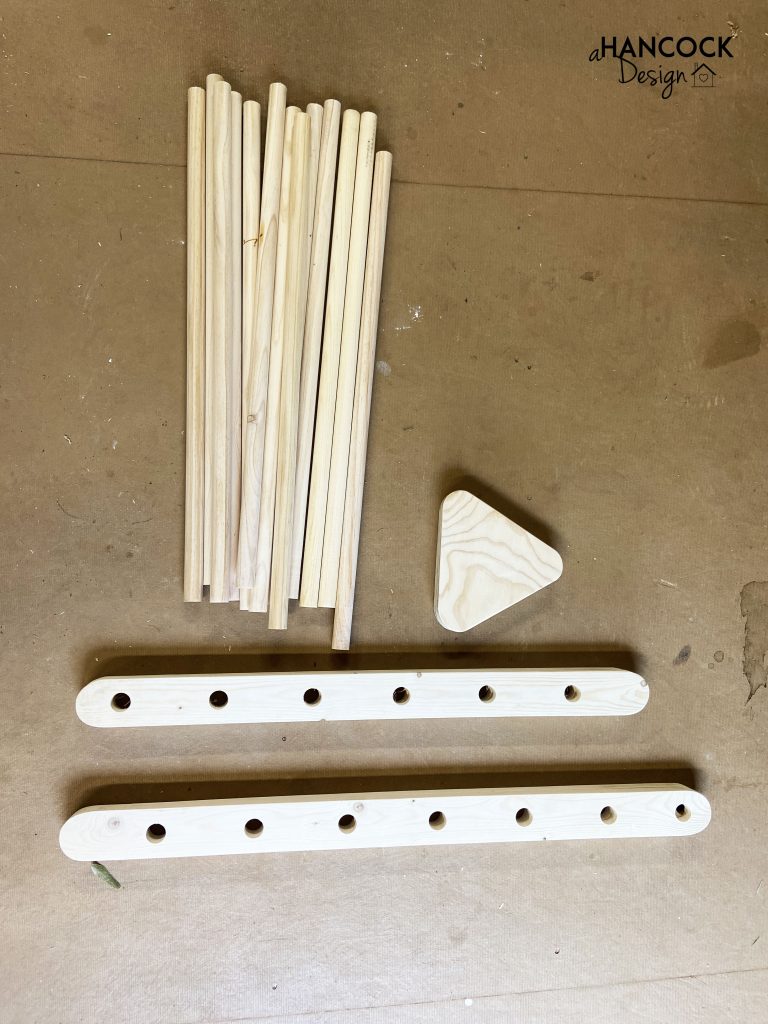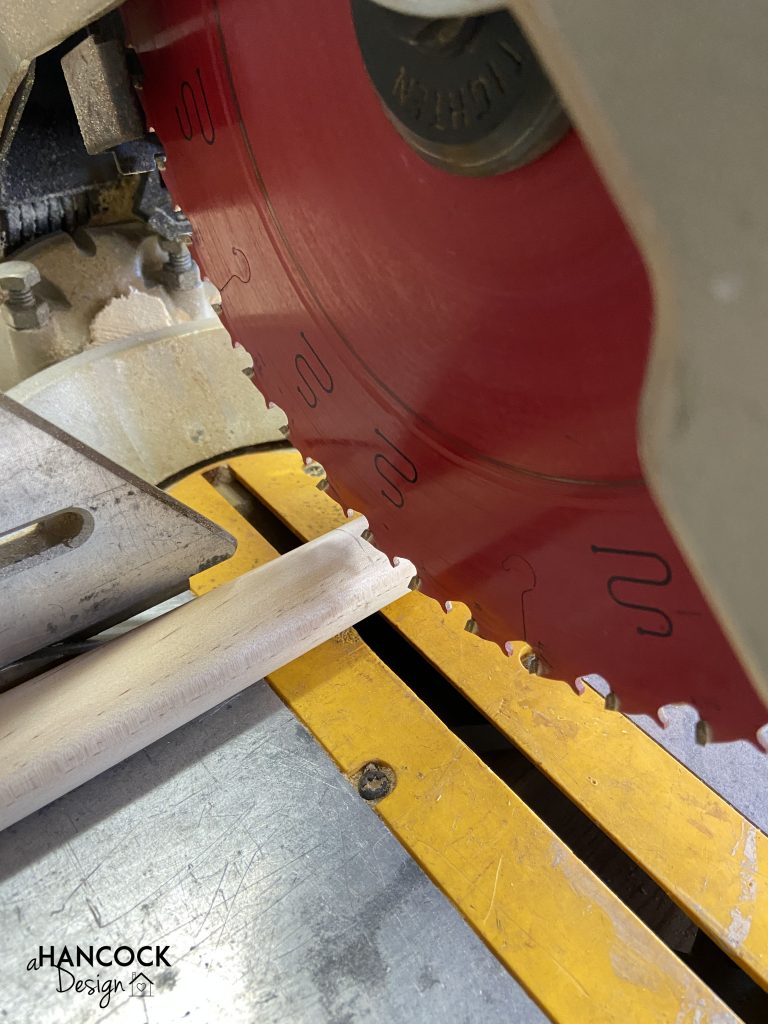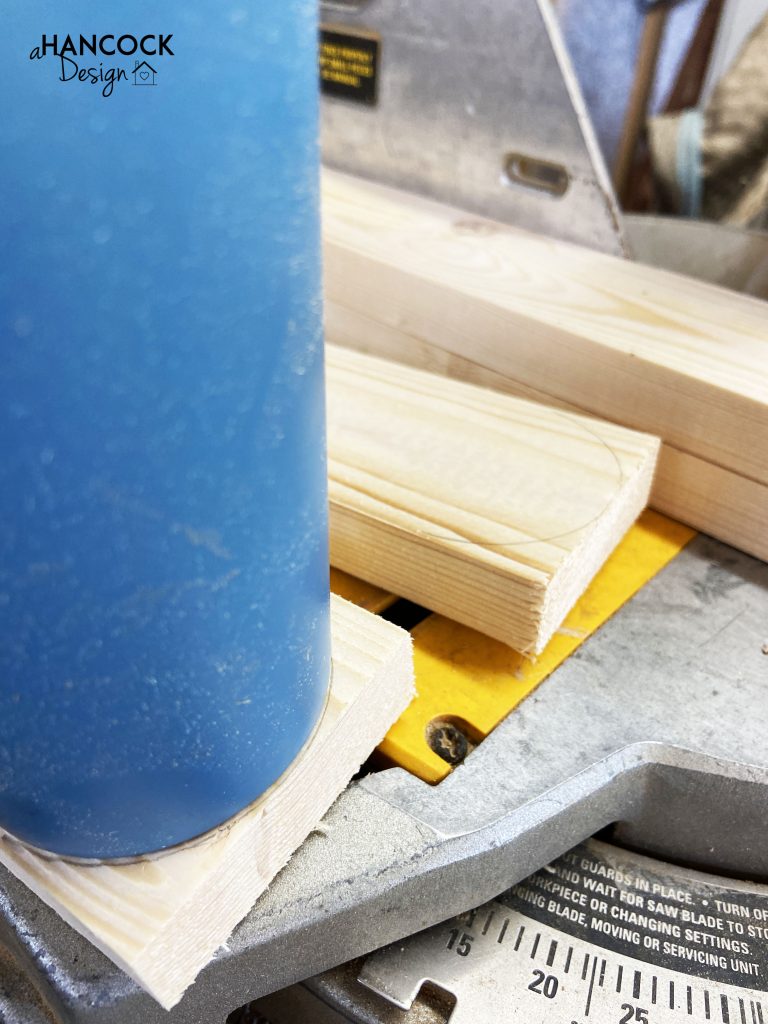 The cuts with the jigsaw were pretty rough, so I held each set of two legs together (two long legs and two shorter legs) and evened them up and smoothed them out on a belt sander.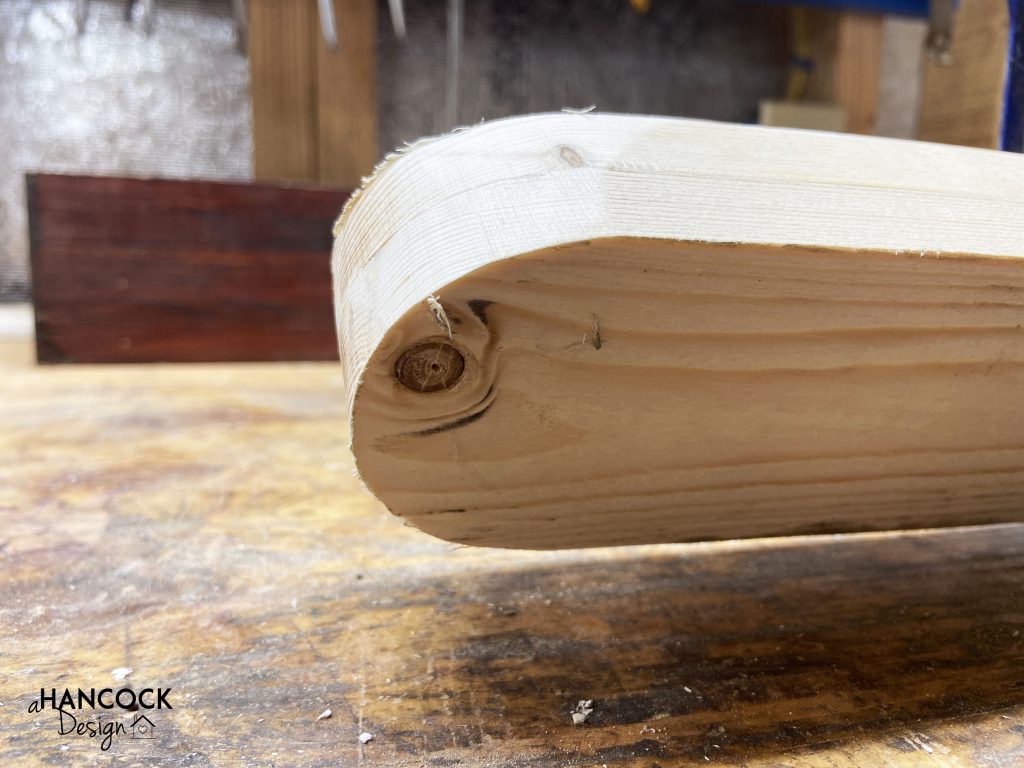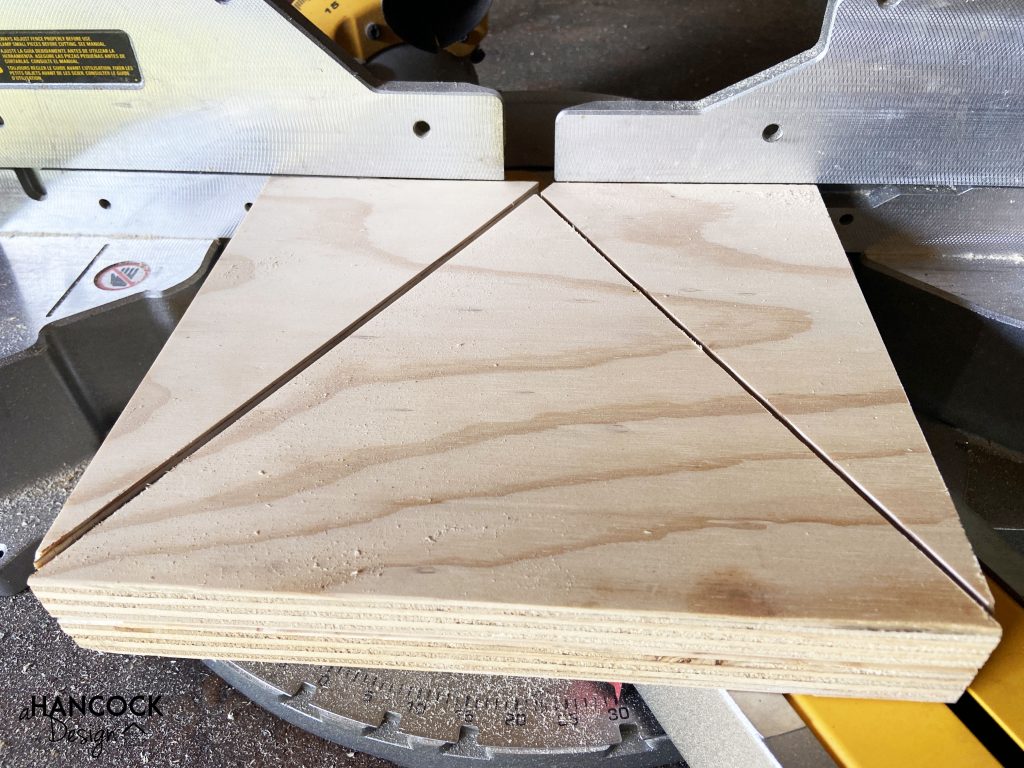 I used the drill press again to make holes in the triangle pieces and the long legs for the 1/2″ hex head bolt to pass through.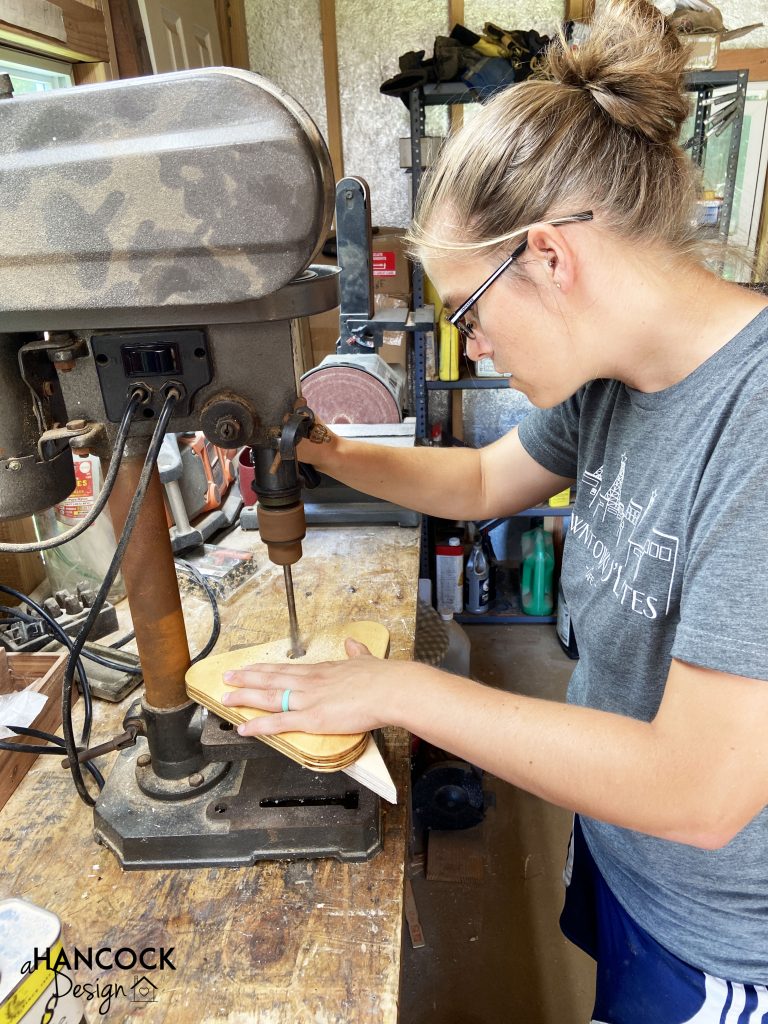 A LOT of work went on between this picture and the one below. Because I accidentally drilled the holes for the dowels all the way through, it made it more difficult to build the two ladder pieces. The dowels had to be perfectly aligned (impossible) and then I ended up using a brad nailer to pin each dowel into place to hold it while the glue dried. Several of the nails shot out at weird angles because of knots in the wood, so then I needed to clip those off and hammer the sharp piece back into the wood as best as I could. Then I had a tiny hole to fill with wood filler. After the glue dried, I used a belt sander to go back and smooth the uneven ends of the dowels as best as I could. It worked out in the end… but it would have been so much easier had I only drilled the holes partway through. (I have since built two more triangles and remembered to drill the holes partway through, and assembly was a breeze.)
After the glue was dry and everything was sanded smooth, we rubbed Tung oil on to finish it. I used some Watco tung oil that I had on hand, but when I need to purchase more, I would purchase this kind from Hope's. Tung oil is an all-natural food grade wood sealer. The food grade nature makes it a great choice for kid woodworking projects since babies tend to put everything into their mouths.
We lightly sanded between coats and did three coats of Tung oil.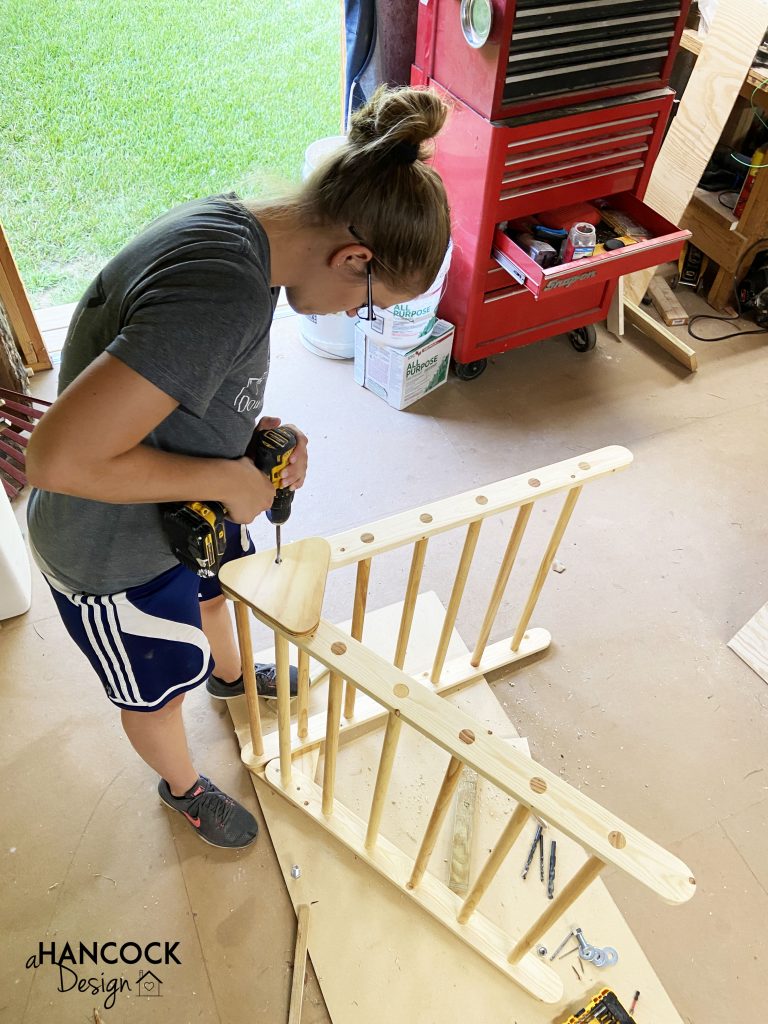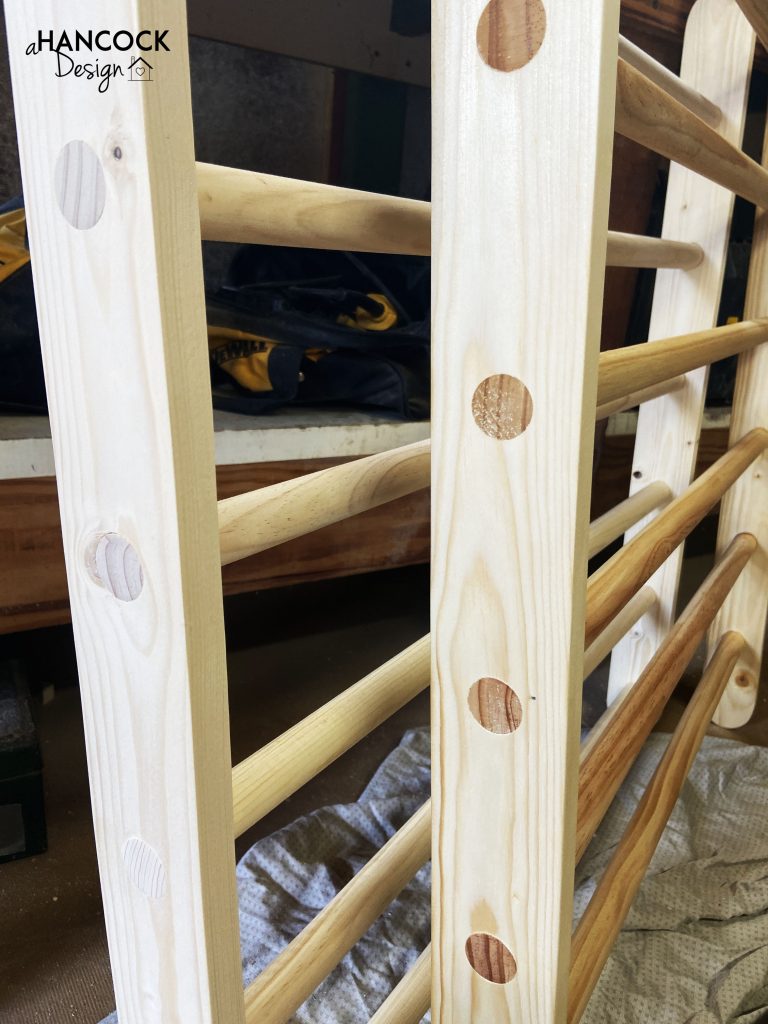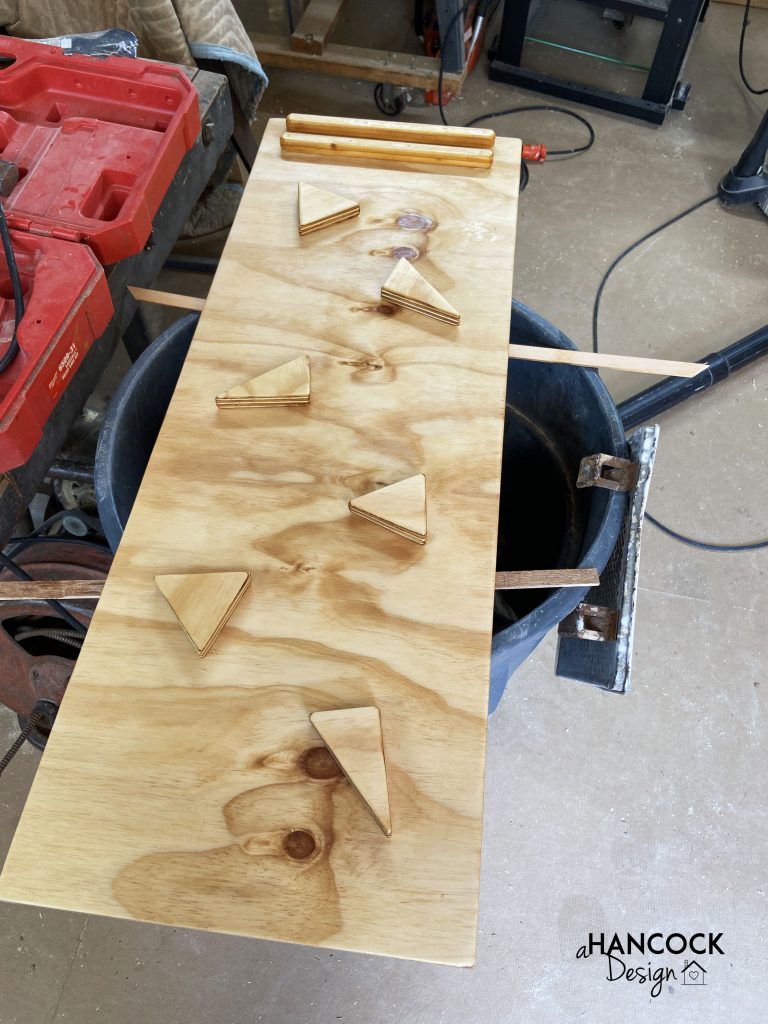 Lastly, I used a piece of 3/4″ inch plywood I had in my scrap pile to build a climbing ramp/slide (two-sided reversible) to hook over the rungs on the ladder. I didn't follow the Montessori in Real Life plans for this, just kind of winged it. Wung it?
I used just the Tung oil on the climbing ramp side, but on the reverse for the slide I put a couple coats of clear semi-gloss polyurethane over it in order to make butts slide faster.
At long last… it was finished! We took it over to my sister's house and let the kids try it out.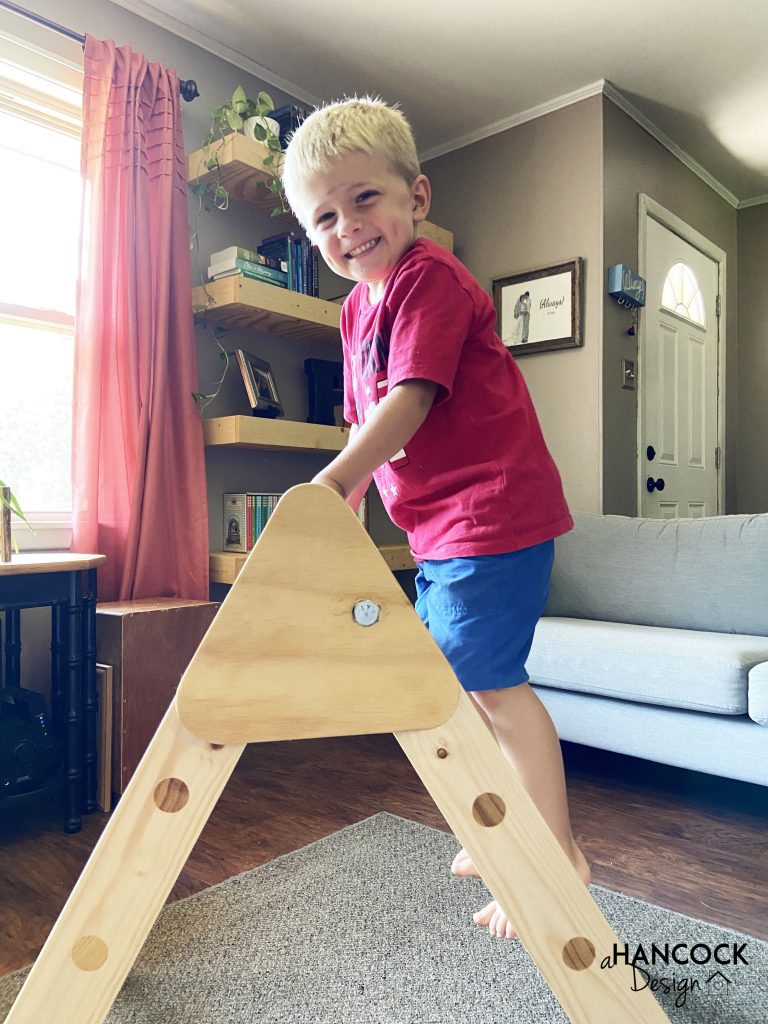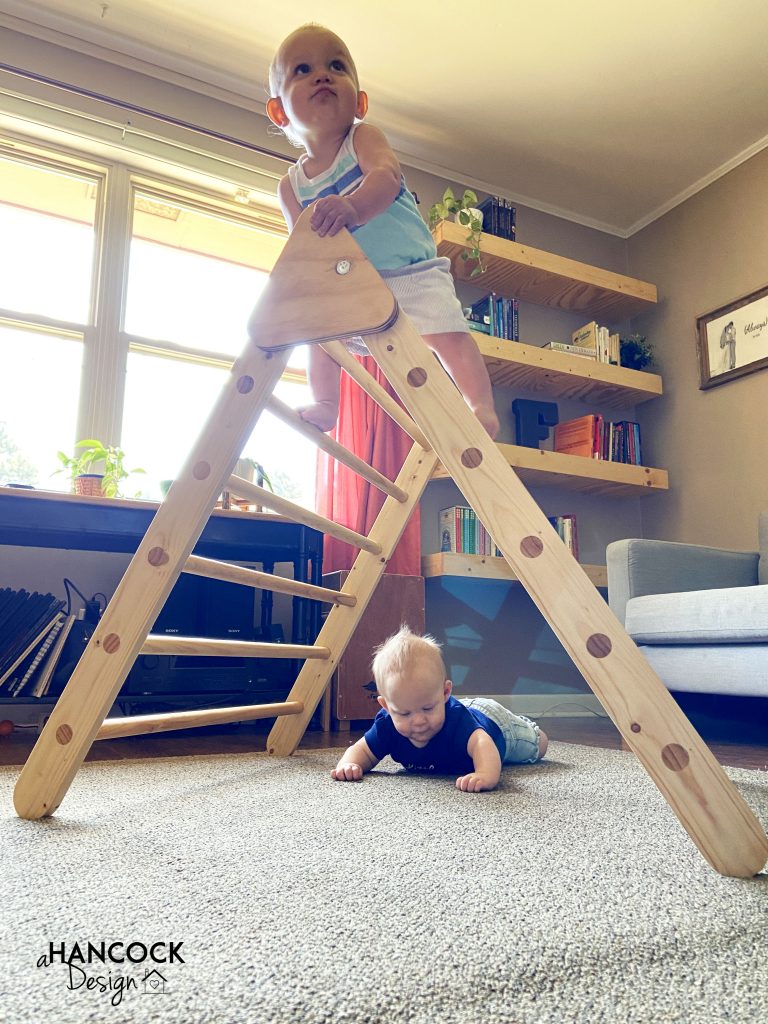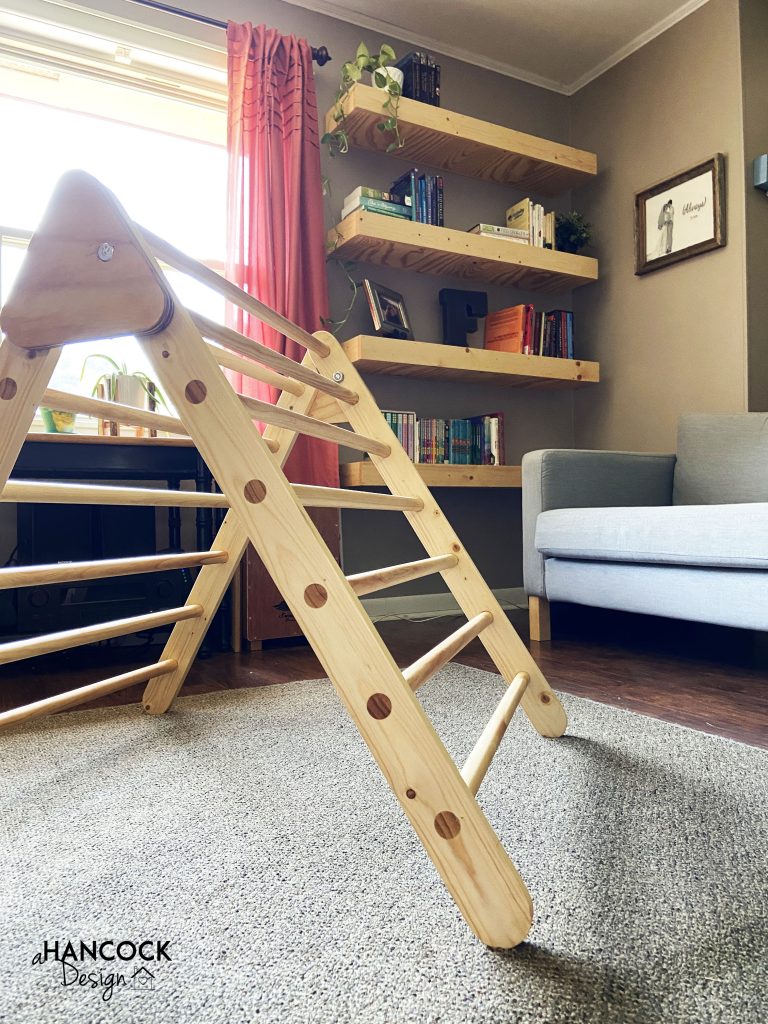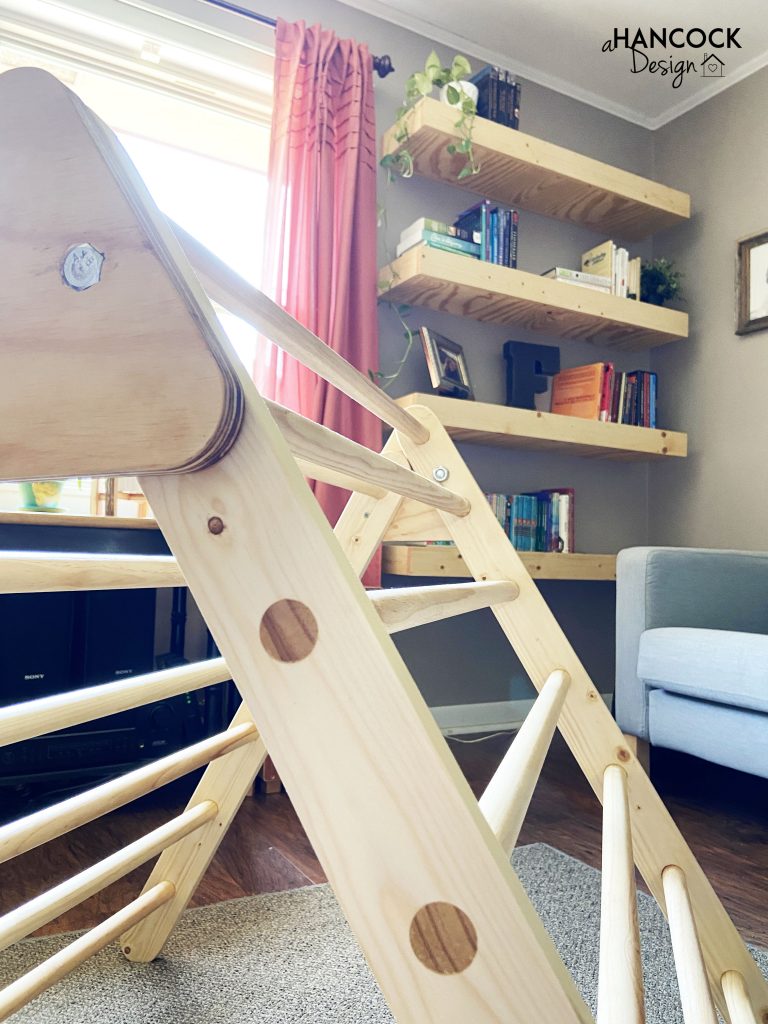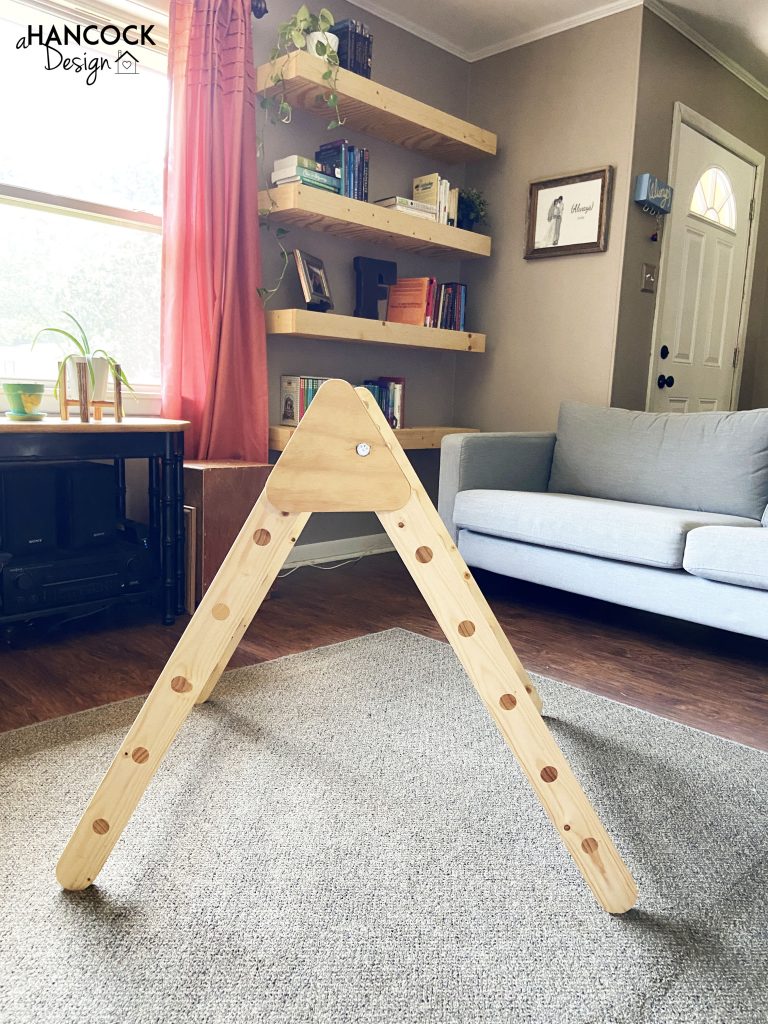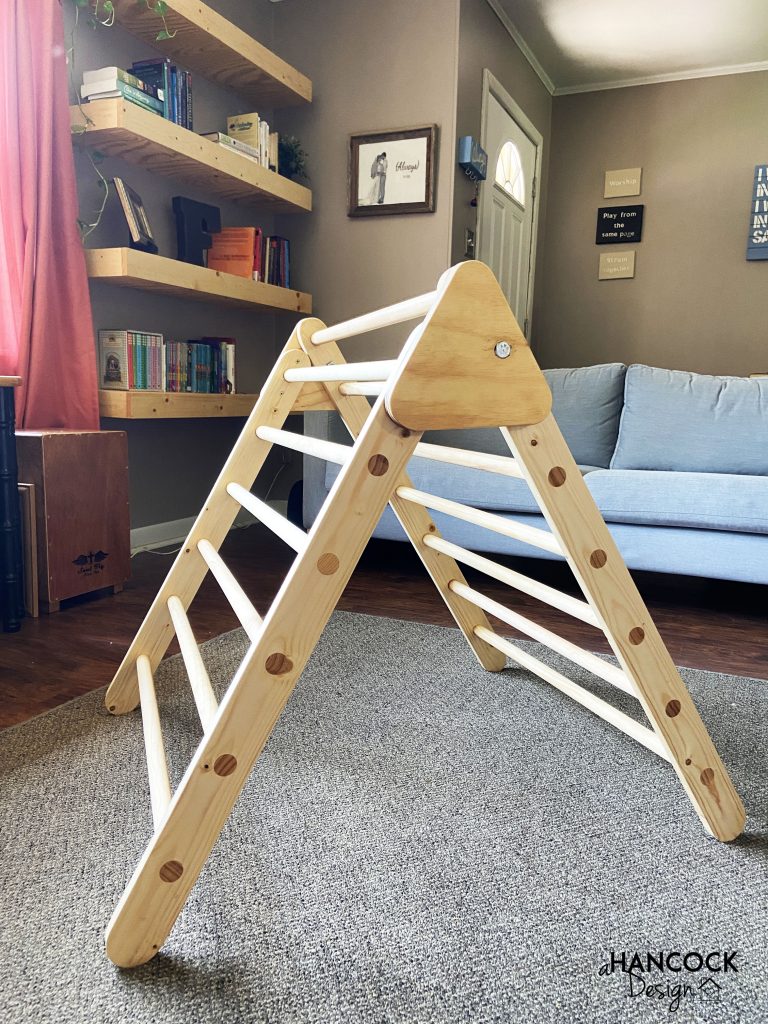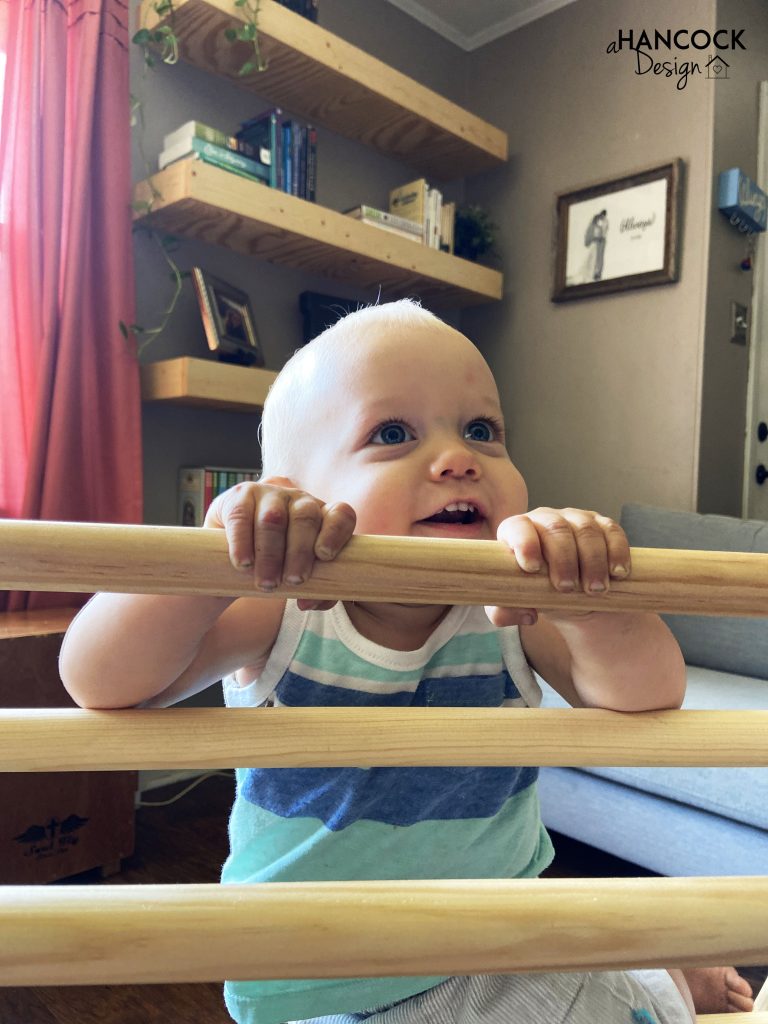 It was a big hit! Since I'm so slow in writing this blog post, the triangle has now had over nine months of use and it still holds a prominent place in their living room and I would venture to guess that it gets played with nearly every day.
This project took a little bit of trial and error to get the kinks worked out, but it was not super difficult in the long run. I have since built two more, both of which were flawless (if I do say so myself) and the process went much more quickly than the first. Maybe not a beginner level project, but… you could probably make one if you wanted to give it a shot.